Portucalense University established, in February 2007, the Office for Quality and Evaluation (GQA), whose main objective is to measure the quality of services and teaching at the University and to contribute to the implementation of measures that promote teaching excellence in accordance with the European standards for accreditation.
The University has unequivocally assumed the principle that quality and quality assurance are a fundamental vector for its functioning and development.
This principle is enshrined in the University's commitment to develop its work through a culture of quality, based on responsibility and on the effectiveness of its action for greater social cohesion.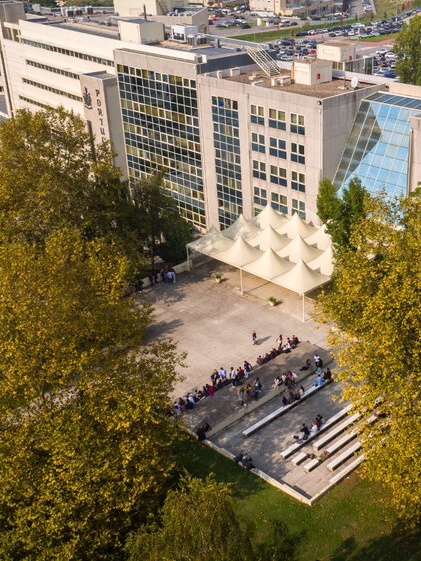 To support and stimulate the implementation of an internal quality management system;
Coordinate and support the evaluation processes of the pedagogical quality of UPT by measuring the satisfaction of their students;
Supporting the external evaluation processes at UPT;
Promoting the evaluation of the quality of services at UPT.
Portucalense University is a higher education institution that aims to be a global institution and recognized for quality in the different dimensions of its activity: research, teaching and knowledge transfer. To this end, it seeks to have human resources with the highest qualifications and aims at a target audience that is not only Portuguese, but from all parts of the world.
Its goal is to promote its position and competitiveness in the university teaching and academic services market, through the development of pedagogical and scientific activities in strict compliance with legal and regulatory requirements and based on a continuous improvement of processes.
This goal will only be possible by having a competent and motivated staff, aligned with the strategic vision of the University, thus helping to balance efficiency and excellence in a balanced way.
This policy is the support of the Quality Management System, which will allow achieving a high level of academic and business performance and developing a culture of continuous improvement.
The University is committed to promoting a teaching environment that seeks to attract the best, thus training professionals with high technical competence and integrity of character, and who thus contribute to a more prosperous and responsible society.
In these terms, each member of the University is responsible for the continuous improvement of the Quality Management System, making this a responsibility shared by all.
Evaluation of Study Cycles
Assessment by students and  A3ES
Portucalense University underwent an audit of the internal quality assurance system (SIGQ) by A3ES in 2016. The audit visit took place in September 2017, and the Board of Directors of the Assessment and Accreditation Agency for Higher Education (A3ES), on 13 December 2017, accredited it for a period of 6 years, the maximum time of accreditation.
Universidade Portucalense is the only private university with this accreditation.
 Preliminary Report of the CAEE
Quality Certification by ISO 9001:2015
Portucalense University has its Quality Assurance and Management System (QMS) globally certified by ISO 9001:2015 .
Legislation / Regulation / Links
1. International Framework
2. National Framework
3. Internal Regulation
Links
National
International